New Jersey is known for its world-class restaurants, and the steakhouses in the Garden State are no exception.
Whether you're looking for a traditional steakhouse experience or want to have a more contemporary meal, there are plenty of steakhouses across New Jersey to choose from.
Below you'll find a list of the best steakhouses in New Jersey. Check out these fine dining establishments and see which one makes your culinary wish list.
The Best Steakhouses in NJ
Mentioned here are 16 best steakhouses available in New Jersey state. Out of all the restaurants, roots stands out to be the finest in terms of Area, Choice steak cuts, Perfect marination, Sufficient portion sizes and great ambience.
The other restaurants are nonetheless, it's my personal taste that prefers roots. But the Morton's and Flemings are great choices too for steakhouses.
1. Roots
(Summit, Ridgewood, Morristown, Princeton)
401 Springfield Ave, Summit, NJ 07901
Roots is an upscale, masculine restaurant that is a perfect venue for business dinners. This restaurant features an a la carte menu of dry-aged prime and choice grade steak cuts. 
The cowboy steak and kobe beef sliders are popular beef entrees, but for those who want an alternative steakhouse protein, veal chops and stuffed chicken breasts are also available.
The sides at Roots are well-executed but classic dishes – creamed spinach, broccoli with garlic, grilled asparagus, and loaded potato chunks will make sure you don't go away hungry.
2. The Butcher's Block
235 West Ave, Long Branch, NJ 07740
(732)-795-3903
Visitors at The Butcher's Block in Long Branch note this steakhouse's beautiful decor, complete with multiple chandeliers. With a small menu and an inviting ambiance, The Butcher's Block is ideal for a quiet, intimate dinner. 
Along with traditional steakhouse dishes like truffled macaroni and cheese or Caesar salad, The Butcher's Block also offers more contemporary dishes like bone marrow pizza drizzled with spicy honey.
Since The Butcher's Block focuses on using ingredients from local businesses, you can be sure anything you order at their butcher's window will be as fresh as can be.
3. Morton's
2100 Pacific Ave, Atlantic City, NJ 08401
(609) 449-1044
Morton's is a New Jersey steakhouse that features well-marinated steaks like filet mignon with black truffle oil  and Cajun ribeye steak alongside classic steakhouse sides like onion rings, creamed spinach, Brussels sprouts, and macaroni and cheese. 
For those who want some dishes on the lighter side, fresh oysters and crab cakes complement wedge salads and bite-sized appetizers like prosciutto-wrapped mozzarella and wagyu meatballs.
4. Flemings
90 The Promenade, Edgewater, NJ 07020
(201) 313-9463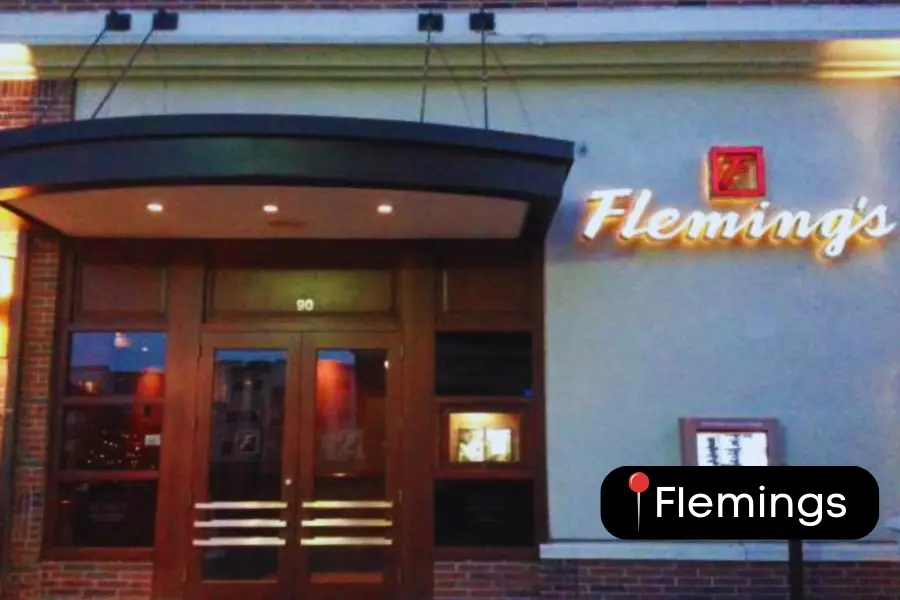 Flemings features a combination restaurant and bar counter with a wide variety of California and Washington wines. With impressive appetizers and a beautiful sunset view from the dining room, it's a luxurious way to spend an evening in Edgewater. 
Standouts on the Flemings appetizer menu include their filet mignon flatbread and seafood tower. The restaurant offers several prime cut steaks alongside traditional sides such as wedge salads and baked potatoes.
Many customers recommend the restaurant's happy hour from 5PM-7PM, which features multiple specials on the menu as well as discounted appetizers.
5. Wolfgang's Steakhouse
119 W Main St, Somerville, NJ 08876
The Wolfgang's Steakhouse in Somerville is one of a major chain of steakhouses founded by the world-famous chef Wolfgang Puck, but this doesn't take away from its quality. While it is a relatively loud and bright restaurant, it's a good venue for a lively evening.  
Along with top-tier steaks, Wolfgang's Steakhouse also offers many other proteins such as Chilean sea bass, grilled lemon caper chicken, lamb chops, and baby back ribs.
Steaks are rubbed with kosher salt and broiled to order, whether you like your beef well done, medium rare, or black and blue.
Sides at Wolfgangs include German potatoes alongside more traditional steak fries and onion rings. The most popular appetizer is a chilled seafood tower featuring crab, shrimp, and lobster.
6. The Library II
306 NJ-73, Voorhees Township, NJ 08043
The decor in The Library II is academic-centered, with a dimly lit aesthetic. One of the most popular features of The Library II is its extensive salad bar, which features a wide variety of vegetables and greens alongside toppings like chopped meat and cheese.
The bone-in prime rib and the prime rib sandwiches are some of the most popular steak-based dishes on the menu, but seafood lovers will also find bacon-wrapped shrimp, lobster bisque, crab cakes, and stuffed flounder available. (Source: OpenTable)
7. Steakhouse 85
85 Church St, New Brunswick, NJ 08901
Steakhouse 85 is a modern, contemporary steakhouse that is decorated with Rutgers memorabilia, making it an ideal choice for graduates and alumni to share a special meal. The restaurant features backlit menus that make ordering easy and large portion sizes to make the bill worth the cost.
The steakhouse offers several popular appetizers that include beets with goat cheese, tenderloin meatballs, and crab cake stuffed shrimp. Traditional steakhouse cuts like tomahawk ribeyes are showcased alongside alternative proteins like crusted grouper and calamari.
This restaurant also features a date night menu that includes a bottle of wine, making it the perfect option for a couple's night out. (Source: New Jersey Leisure Guide)
8. Rare
440 Main St, Little Falls, NJ 07424
The monotone exterior of Rare is slightly misleading once you step through its doors into its beautiful interior, graced with good lighting and rustic exposed brick.
While the steaks at Rare are top-notch, the restaurant gets a lot of attention for its appetizers, such as clams oreganata, burrata, fristo misto, tuna tartare, and eggplant parmesan. Mains like spaghetti can also be purchased in an appetizer serving.
Rare's tender cuts like their 10-ounce filet mignon share the spotlight with other well-executed dishes like halibut and salmon. The strawberries and cream dessert is a simple end to an extravagant meal, but undeniably delicious. (Source: Yelp)
9. Knife and Fork Inn
3600 Atlantic Ave, Atlantic City, NJ 08401
The Knife and Fork Inn was originally established in 1912 as a gentleman's club and dining room, and for the most part it has maintained these old-school aesthetics. However, the 21st century Knife and Fork Inn is a restaurant that is welcoming to all diners.
The side dishes at Knife and Fork Inn are an elevated spin on steakhouse classics, with goat cheese au gratin potatoes and whipped sweet potatoes replacing the traditional baked or mashed white potatoes.
The Knife and Fork Inn features a reasonably-priced Knife and Fork dinner with crab and corn chowder, tomato and mozzarella salad, filet mignon, and lobster thermador. For the cost, you'll find it hard to get a better bang for your buck. (Source: WPST)
10. Liberty Prime Steakhouse
111 Montgomery St, Jersey City, NJ 07302
Liberty Prime is a classy eatery with a hip vibe, so if you're looking for a New Jersey steakhouse with more contemporary flair, this is your spot. With simple online reservations, you'll find it a lot easier to hold a table, too.
Alongside their traditional steakhouse cuts, Liberty Prime features alternative proteins like fish and chips, jumbo shrimp, and Creole chicken alfredo. Other popular appetizers include their short rib sliders, tomato stacks, bone marrow, and steak tartare.
Featured desserts at this restarauant are a flourless chocolate cake and fried cookie dough bites. For a slightly different take on the classic steakhouse experience, head to Jersey City and Liberty Prime. (Source: Yelp)
11. The Capital Grille
2000 NJ-38, Cherry Hill, NJ 08002
If you're looking for impeccable service with an eye for detail, The Capital Grille is a prime example of it. This steakhouse is a great place to celebrate birthdays since the staff go above and beyond to make the birthday guest their top priority.
Popular steak entrees at The Capital Grille are their aged New York Strip and their procini ribeye. For non-steak options, the pan-fried calamari with hot cherry peppers is also a favorite.
The steakhouse features steakhouse sides like lobster mac and cheese, but guests note that the pasta features generous portions of lobster in the dish compared to other steakhouses. Sounds like another example of The Capital Grille trying to do the classic thing just a little bit better than the other guy. (Source: New Jersey Leisure Guide)
12. River Palm Terrace
1416 River Rd, Edgewater, NJ 0702
If you're looking for an excellent plate of surf and turf, look no further than River Palm Terrace. This steakhouse in Edgewater features classic steakhouse dry-aged cuts like ribeye and porterhouse as well as Argentinian skirt steaks and filet mignon.
Along with their prime steaks, River Palm Terrace offers thirty different sushi rolls from an in-house sushi chef and tableside salad service, adding a little theatrical flair to your special occasion.
With a varied menu that is always changing, this steakhouse has plenty of options for those who would prefer proteins other than steak, from lamb chops and fresh-caught tuna to lobster and hand-made pastas.
Top off your evening on the Terrace with one of their signature desserts, such as cheesecake with blueberry coulis or brownie a la mode. Whichever meal you choose, it's impossible to choose poorly here. (Source: Yelp)
13. Arthur's Tavern
700 Speedwell Ave, Morris Plains, NJ 07950
While Arthur's Tavern has all of the staple steakhouse steaks on offer, there's plenty of variety to keep regulars coming back again and again.
Along with classic entrees like Delmonico steak and potatoes, Arthur's also offers more homey dishes like hot wings, nachos, burgers, and Salisbury steak. Other non-steak options are present, such as salmon and the fish sandwich.
The sides at Arthur's are also a strong draw, with standouts including their French onion soup, chopped salad, and mushrooms. An appetizer that is particularly popular is their pickles and hot peppers mix, which is offered as a starter to all tables.
Luxurious enough for a fancy night out and cozy enough to draw the neighborhood regulars in every week, Arthur's is a cornerstone of the Morris Plains fine dining landscape. (Source: Tripadvisor)
14. Edward's Steakhouse
239 Marin Blvd, Jersey City, NJ 07302
A modern, renovated brownstone space with two floors of dining, Edward's Steakhouse has a spacious and luxuriant feel. This luxury is also reflected in their menu options, which are well-executed examples of old school steakhouse classics like Caesar salad and filet mignon.
Guests consistently compliment the steaks on offer at Edward's, but there are also dishes like ahi tuna and top-grade lamb chops available for diners who want to switch it up.
Sides include classics like baked potatoes, creamed spinach, and fries, but cooked so well that they'll become your standard for spuds at any other steakhouse you visit. For dessert, try the creme brulee with berries, or just finish up with a nice cappuccino instead.
Edward's has happy hour specials before 7PM and a wide range of craft cocktails for all palates. This quiet gem in the heart of Jersey City has a cult following, and with good reason. (Source: Yelp)
15. Segovia Steakhouse and Seafood
217 Main St, Little Ferry, NJ 07643
Segovia Steakhouse and Seafood has been around for over thirty years, which already speaks well of this classic steakhouse with Spanish influences. Along with traditional steakhouse offerings, Segovia also has some Spanish standouts like their house-made sangria and a full tapas menu.
With reasonable pricing and generous portion sizes, diners can be sure to get their money's worth visiting this steakhouse. Other options than the steaks include dishes like filet mignon empanadas, pork chops, garlic shrimp, veal, and calamari.
Fancy enough to celebrate a special occasion but cozy enough to visit on the regular, you can be sure that if you visit Segovia, you're going to have enough left over for lunch the next day too. (Source: Yelp)
16. Allendale Steakhouse
95 W Allendale Ave, Allendale, NJ 07401
You might not think of a steakhouse as being a good option for vegans or vegetarians, but with plenty of vegetable dishes sauteed in garlic and olive oil, there is something on the menu for carnivores and non-carnivores alike at Allendale.
With extravagant steaks and rich sides that go a long way even in smaller portions, Allendale brings its A-game with standout dishes like lobster bisque and tiramisu. Since it's a BYOB spot, diners are free to bring their favorite bottle of wine to keep the toasts and conversation flowing.
If you're looking for top-notch service, cozy ambiance, and some of the best steaks in New Jersey, Allendale is definitely worth a reservation.