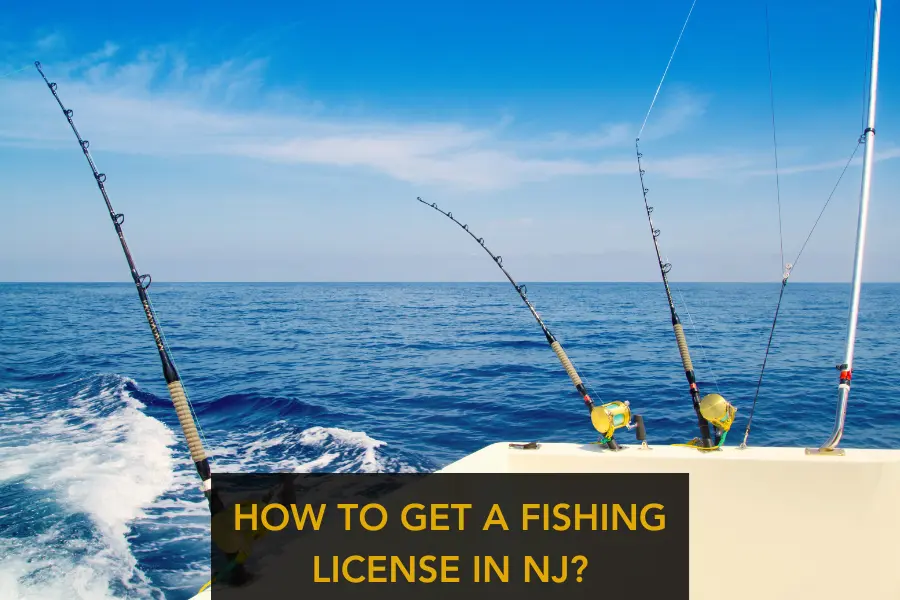 Boasting a coastline of nearly 130 miles providing direct access to the salt waters of the North Atlantic Ocean, 400 publicly accessible lakes, ponds and reservoirs, as well as 18,000 miles of public streams and rivers, New Jersey is one of the top states for fishing on the East Coast.
But before you can start reeling in massive Landlocked Salmon, Northern Pike, and countless other species, you'll need to get a New Jersey certified fishing license. In this article, we will provide you with all the information you need to acquire this documentation, including where and how to apply, individual requirements, related costs and fees, and more.
Start the Application Process Online or Through a Licensed Agent
A New Jersey fishing license is a form of documentation that legally allows individuals over 16 years of age to fish in specified public and private waters within the state using methods such as:
Handline
Rod and reel
Bow
This is to aid in wildlife conservation as well as acquiring funds to support habitat programs, improving fish and boating access, research, and more.
Both New Jersey state residents and non-residents are required to have a fishing license to participate in commercial and/or recreational fishing in the state.
Interested individuals can start the application process online through the New Jersey Fish and Wildlife official website or through a licensed New Jersey DEP Fish and Wildlife agent. Use this online locator to find agencies near you.
Make sure to read the requirements listed for both application options to ensure you fit the criteria and have the necessary information and documentation before you start the process.
Purchase the Appropriate Fishing License and/or Stamp
The New Jersey Department of Fish and Wildlife offers several different fishing licenses and stamps to suit a variety of fishers. Before you make a final purchase on your fishing license, confirm that you fit the license's requirements and that it suits your fishing goals.
Below is a chart listing the freshwater fishing licenses and stamps available for purchase, any applicable age ranges and/or specifications, and the associated cost.
| | | |
| --- | --- | --- |
| License/Stamp | Applicable ages and/or specifications | Purchase cost and fees |
| Resident Fishing License | Ages 16-64 years | $22.50 |
| Senior Resident Fishing License | Ages 65-69 years | $12.50 |
| Resident Trout Stamp | Ages 16-69 years | $10.50 |
| Non-Resident Fishing License | Ages 16 years and up | $34 |
| 7-Day Vacation License | Non-residents only | $19.50 |
| 2-Day License | Non-residents only | $9 |
| All Around Sportsman License | NA | $72.25 |
Remember that if you are interested in fishing for trout or salmon, you need to purchase a fishing license in addition to a trout stamp.
Obtaining a Permit
You will also need to purchase a permit if you are interested in:
Utilizing select Wildlife Management Area's (WMA) boat ramps ($15)
Fish stocking ($2)
Scientific collecting (22)
Water lowering ($2)
Commercial harvesting ($2)
Once you have selected and purchased your preferred freshwater fishing license, stamp, permits, they will remain valid until December 31st of each year. Upon January 1st, you will need to purchase new documentation.
Are There Any Discounts for New Jersey Fishing Licenses?
Certain individuals can obtain a fishing license or stamp at a discounted rate or free of charge if they meet specific requirements. These include:
Active military personnel (regardless of residency)
New Jersey National Guard personnel in good standing
Resident veterans with a service-connected disability
Residents afflicted with total blindness
Resident anglers who purchase their freshwater fishing license with a "Buddy"
Resources and more information on eligibility can be found here.
What About Salt Water Fishing?
With easy access to the North Atlantic Ocean, avid anglers from near and far flock to the coast and salty waters beyond for some of the most challenging and rewarding fishing opportunities.
Fortunately, standard, recreational angling can be done cost-free. All you have to do is register with the New Jersey Saltwater Recreational Registry Program (NJSRRP). This can be done online or through a licensed agent.
If you are interested in commercial salt water fishing, you will need to purchase the appropriate licenses and permits for your intended species('), harvesting method, etc.
Recreational salt water anglers (both resident and non-resident) will also need to purchase a license if they are interested in:
Shellfish
Crab pot
Lobster pot
The only discounts available for these licenses is offered to disabled veterans and seniors over 62 years old.
Final Thoughts
Purchasing a New Jersey fishing license, stamp, and permit or registering with the NJSRRP is an easy and affordable process you can complete in mere minutes online or with a licensed agent. Remember to always wear your fishing documentation in a conspicuous place on your outer clothing while engaged in fishing to avoid issues with law enforcement.
If you are concerned about losing or damaging your documents, you can purchase a duplicate using the license website or at license agents for a $2.00 fee.
Sources: