Are you a resident of New Jersey or planning to move to New Jersey? Then you need to know that car registration is vital.
Why Do you need to Register your Car?
The New Jersey Motor Vehicle Commission (NJ MVC) is the body mandated for car registration. Registering your car helps in the easy identification of a vehicle and its owner. Additionally, become authenticated to drive your vehicle on NJ highways and roads. Therefore, prepare to register your car today.
 In case you don't know the process of registering a car in New Jersey, you will get all the information you need in this guide.
Documents Required to Register a Car in New Jersey
You need to provide the following documents to the New Jersey Motor Vehicle Commission during the registration process:
Car Title
Driver's license
New Jersey Insurance Card/Company Name/Policy Number
Power of Attorney if an agency is registering the car on your behalf
An MVC entity identification number
Lien Holder information and Finance statement. If you leased or financed the car
Social Security Number card
Odometer reading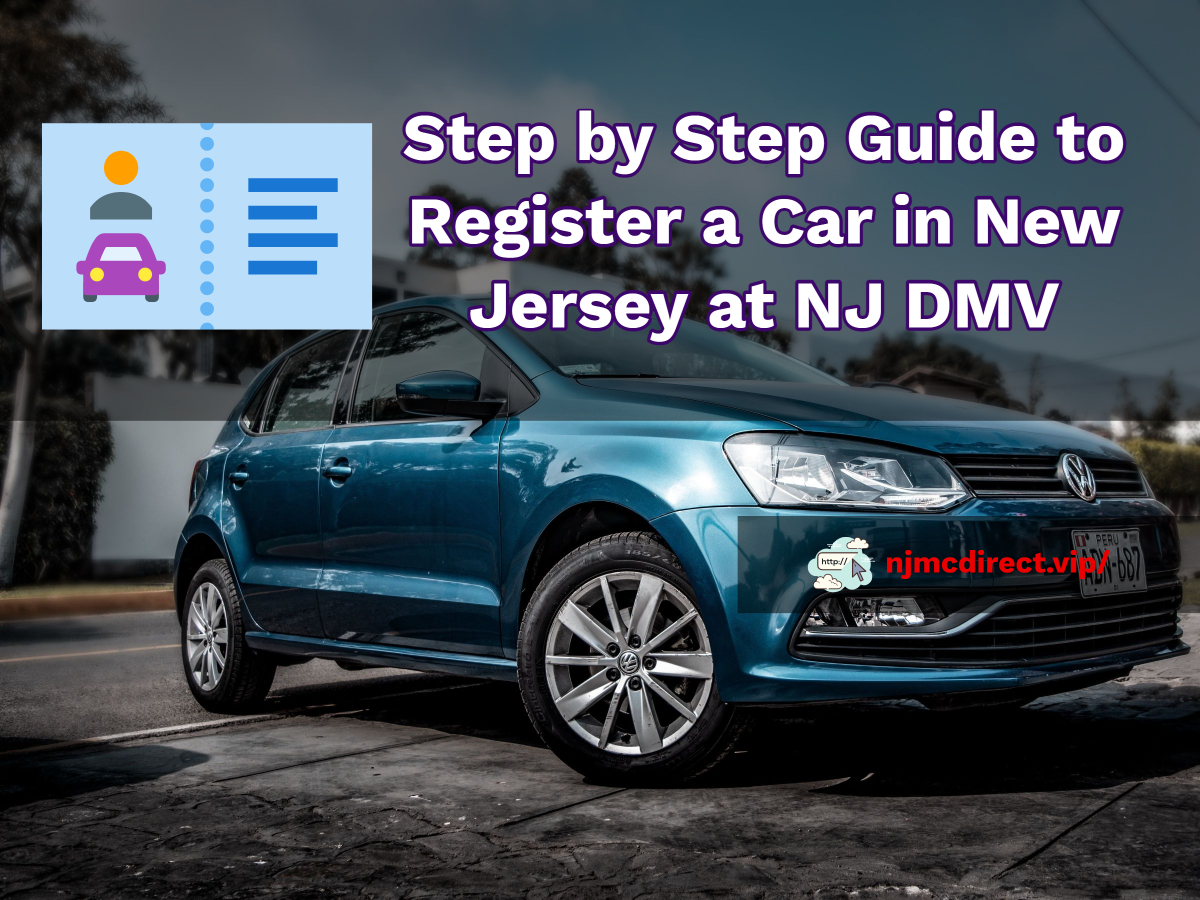 Car Registration Process in New Jersey
When you have all the documentation, you need to follow the following steps during the registration process.
Find the motor vehicle agency of your choice.

There are thirty-nine agencies you can visit. Some of them include;Newton agency
Washington agency
Flemington agency
Paterson agency
Randolph agency

Visit the NJMVC website to find the best vehicle agency in your county.
Calculate your payment.
There are three things you will be charged. First, it is the titling, registration, and sales tax fees. The titling payment depends on the following things.
Standard vehicle – $60
Financed car with a lien – $85
Financed car with two claims – $110
The type of vehicle is a factor considered when calculating the registration fee. Also, remember to include your car's license plate. If the car is new, you will pay a four years registration fee. In case you don't know how to estimate the sales tax fee seek assistance from the NJ Division of taxation. Call this department through 609-984-6206.
NB: For automobile registration fees, the weight class, model, and weight are the things that determine the cost.
The registration process is not automated; that means you will visit an agency office physically.
At the motor vehicle agency, you need to fill in the vehicle registration application form known as Form BA-49.
In case you are from another state, you need to fill in the certificate of ownership form.
Go to the title/registration counter with the forms together with the attached documentation and pay the fees to complete the registration process.
The officer at the counter will verify your documents and application forms. After that, you will get the registration document and license plate for your vehicle.
Car Registration for New Residents of New Jersey
New residents of New Jersey and have a car. You need to register it with NJ MVC.
Do you find the process challenging? Don't worry, as you will learn on the steps to follow when registering a car in New Jersey.
But what do new residents require? First, you become a resident of New Jersey when you are going to stay for more than six months.
After moving to NJ and becoming a legitimate resident, you have sixty days to register your vehicle.
Acquire liability insurance.
Before registration, you must have NJ liability insurance.
Find a motor vehicle commission agency.
As earlier said, there are thirty-nine MVC agencies. Find the one that suits you and request the necessary registration forms.
Necessary Documents you require are;
NJ insurance ID card
Social Security Number
NJ driver's license
Car's odometer reading
If you don't have an NJ driver's license, you present other relevant documents for proof. Such documentations are at least one primary document and secondary document, valid SSN, and proof of address.
Next, fill in and submit the titling application form; however, if there's a lien, you must fill in Form CS-54.
Also, you need to fill in the registration form, also known as Form BA-49.
Registration of New Vehicles
There are various places where you can purchase a new car. You can buy a vehicle from a dealership or a person.
When you purchase a car through a dealership, the car dealer will help you with car registration. All the registration fees will be added to the car's payment.
However, ten business days is the set time for those who buy from a person directly. When you fail to register your car during this period, you will pay $25 for late registration.
In this scenario, you require to have the following documents and fill-in these forms.
Title of the car
Car Insurance
SSN
Driver's license number
Odometer reading
Form BA-49
Additionally, you will pay the car registration fee, sales tax, and title fee too.
How to Transfer Car Registration in New Jersey?
The process of transfer of car registration is straightforward.
You need to know that transfer of registration is only done for vehicles of a similar weight class. There's no way you can transfer the license and registration of a bus and a small car.
$4.50 is the fee you will pay for the transfer of registration.
All these processes are done from an accredited New Jersey Motor Vehicle Commission agency.
When your documents are validated, you can transfer the plates to your new car.
Car Registration Renewal in New Jersey
The time has come, and you need to new your car's registration. But how do you go about renewing the car registration?
What you should know is that you will get a mail from NJMVC informing about renewing your registration. It will be three months to the expiry of your current registration.
The best thing about the renewal process is that it is automated—no need to visit an agency.
Go to the NJ MVC website to start the process. You require the following things;
The PIN is found on the lower right corner of the mail sent by the New Jersey Motor Vehicle Commission.
Pay the amount stated in the mail, and you will have completed the renewal process.
What you need to know is that when the time elapses, you cannot renew your car registration online.
Do you feel you cannot do the online renewal process? You can renew your registration via mail.
On the mail you receive from NJMVC, it will have a payment stub and a return envelope. Fill in the payment stub and input the payment using a money order or check.
You can also renew your registration through an agency. Carry the driver's license, license plate number, and insurance when visiting the agency.
Remember to go in person.
Who is Entitled to Free Car Registration in New Jersey?
Is there free car registration in NJ? Yes, there's but only available to a selected few.
You must be disabled to meet the requirements for free car registration. However, it is not only a disabled person but a disabled veteran.
Another group of people who qualify are those who possess the Medal of Honor.
Additionally, disabled veterans need to have either lost their hands or feet, not able to use their hands or feet, or cannot see to qualify for free car registration in NJ.
New Jersey Car Registration for Military Personnel
When it comes to military personnel working and staying in New Jersey, there are various things you need to know when it comes to car registration.
Those in the military and on active duty but not residents of NJ are not supposed to register their cars. Even though you are exempted from registration, you should carry your state's car registration, and relevant documents are all times.
As an NJ resident on active duty in the military, you don't have to renew your car registration and driver's license. But once you become a civilian, you have ninety days to renew your registration.
In case you are an NJ resident and working in another state, and it's a must to register your car there. You will get a refund for the remaining period of your car registration.
To drive your car legally in New Jersey, you need to register it today. Therefore, if you thought the process was daunting, it's simple. In case you hadn't registered your car do it now to avoid problems with law enforcers.
Furthermore, car registration helps to identify you as the real owner of the car when an issue arises. So, don't take it for granted; it is essential. For further queries about car registration in New Jersey, please leave a comment. You will get instant help.
Thank you for reading.
Also Read: Guide to Pay NJ Surcharge Online