New Jersey uses the NJ E-ZPass as a toll payment collect system. As it is the case with many other states in the USA where there are toll highways, tunnels, bridges, and high-occupancy vehicle lanes.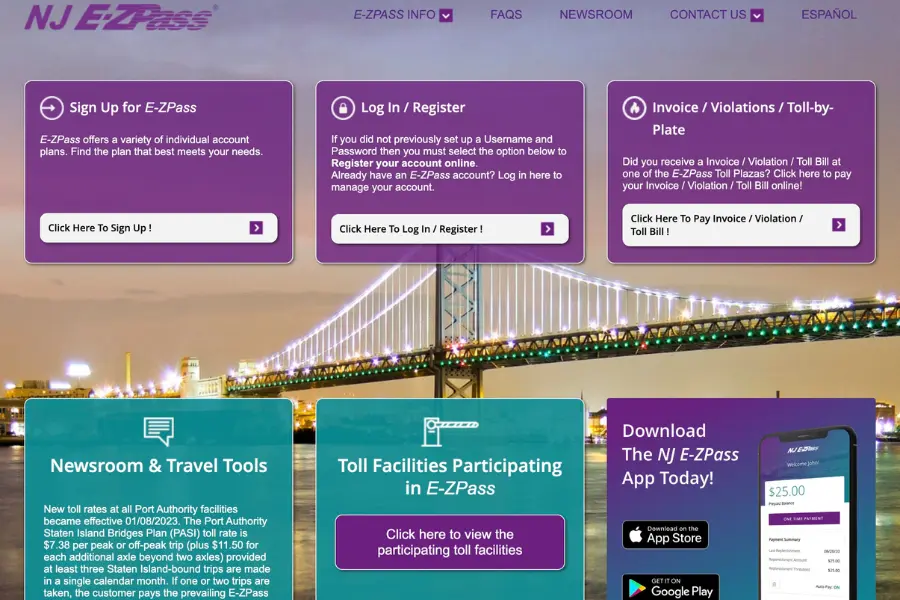 What is E-ZPass?
E-ZPass is an electronic payment system that one uses to pay for fees when commuters use a toll road. Currently, this collection system is used in seventeen USA states, and New Jersey is one of them. As a vehicle owner, you will have to pay toll fees through E-ZPass when using toll roads, bridges, tunnels, or HOV lane.
So, how does one pay New Jersey E-ZPass bill online?
Pay NJ E-ZPass Pass Bill
You can pay Toll Violation Bills or any other dues online. If you are looking for automatic E ZPass setup then jump to second section.
Pay NJ EZ-Pass Bill Online
Follow the steps below to pay NJ toll Violation or pending dues online.
Find the amount of dues online by entering the Violation Number or Toll Bill Number AND License Plate Number or if you have an NJE-ZPass account then login to it.
Enter any additional details required and Select a payment method.
Finish the payment and download the receipt.
Automatic E-ZPass Bill Payment
First sign up for a NJ E-ZPass prepaid account, you will get a small electronic tag that you will attach to your vehicle's windshield.
The electronic tag has a chip that has all your information. When you drive through a toll road, bridge, tunnel, or high-occupancy vehicle lane, the E-ZPass antenna will automatically detects your vehicle license plate number and debit the the money from your account.
NJ E-ZPass recommends that you use Credit, Debit Card, Checking or Savings bank account for automatic payment.
The following card are accepted for NJE-ZPass payment.
MasterCard
Discover
American Express
Visa
NJ E-ZPass Sign Up
To pay toll fees online, you need to create an E-ZPass account. Here are steps to sign up for E-ZPass.
Step 1: Go to ezpassnj.com and click on Sign up for E-ZPass.

Step 2: Choose either the individual or business account.

Step 3: Check on the box before, "I agree to the E-ZPass New Jersey **** Terms & Conditions.
Step 4: Click on Enroll online to complete the process online.
Step 5: Now enter the account details, and when done, scroll down and click on Next: Tags & Vehicles.
Step 6: Complete all the four pages to sign up for NJ E-ZPass.
NB: You have fifteen minutes to sign up. So, do it fast before you run out of time.
You can also download, print, and complete the application form and take the application documents to the New Jersey E-ZPass offices.
NJ E-ZPass Login Guide
Visit the E-Z Pass official website at https://www.ezpassnj.com/.
On the NJ E-ZPass website, click on Log in / Register to sign in to your E-ZPass account.
Enter your NJ E-ZPass username, password, and security message. Then click Log In.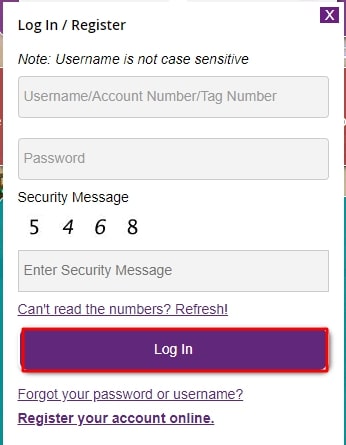 Reset NJ E-ZPass Password or Username
In case you have forgotten your password or username, worry less. You can easily reset the password or username.
Below Log In, there is a link you can use to reset your password or username.
Select either forgot the password or forgot username.

Enter the required details and click submit.
Now that you have your account. Paying your toll fees will be easy.
How Much Does E-ZPass Cost in NJ?
As an E-ZPass customer in New Jersey, you will be paying a monthly service fee of $1. Additionally, you will pay a $1 bi-monthly fee for statement fee either through email or mail. In case you decide to pay your toll, fee using a check, and it bounces, then you will pay an extra $25. When the tag is lost/stolen/damaged/defaced, then you must pay $9 or $15 for interior or exterior tags, respectively. Also, you are required to pay $10 as a tag deposit. For a misused tag or when you violate administrative terms, you will pay $50.
Can I Get a New York E-ZPass if I Live in New Jersey?
Yes, all you got to do is to visit the official NY E-ZPass website. Click on Sign Up and select the state you live in. In this case, you will choose New Jersey. Then follow the steps required to complete registration. That way, you will have your New York E-ZPass, but you live in NJ.
Can I Buy E-ZPass at a Toll Booth?
To acquire an E-ZPass, you can only purchase it from your nearest regional agency. To get a pass, you need to visit the main offices. Also, you should know that they don't give you the pass rather than a chip that you will install on the windshield or license plate. Thus, when you pass through the booths, you will be charged.
Does E-ZPass Charge a Monthly Fee?
Not all states that have E-ZPass charge monthly fees. For example, in New Jersey and Indiana, charge a $1 monthly fee. Other states such as Rhode Island, New Hampshire, Maine, Illinois, and Delaware don't charge monthly fees. However, others charge small monthly fees. Ohio charges seventy-five cents each month while Virginia charges fifty cents monthly.
Can I Buy E-ZPass at Toll Both in New Jersey?
That's not possible. You need to visit the E-ZPass customer service center or other accredited authorities to register for an E-ZPass. You can also do that online rather than visiting the service center.
Is there a Monthly Fee for NJ E-ZPass?
New Jersey E-ZPass customers pay a $1 monthly service fee. Additionally, they pay $1 every two months for statements sent to them either through email or mail. 2002 was the year when the monthly service was introduced.
How Much is E-ZPass at Walmart?
You can buy an E-ZPass at Walmart. However, the cost differs from the state you are living. Let's take an example of Pennsylvania. The cost of purchasing the E-ZPass in Walmart is $41. However, $35 of the amount you pay is channeled to your account as toll balance. $3 is a fee to Walmart, while the remaining $3 is annual E-ZPass fees.
Conclusion
Many drivers who use toll highways, bridges, tunnels, or HOV lanes in NJ should have E-ZPass. It is easy and fast to create your account. Also, the payment method is simple.
If you have any issues, you can call E-ZPass customer service through +1 888-288-6865.
Thanks for reading. Please share this guide with other drivers in New Jersey.
Also Read NJ Traffic Ticket Payment Online.