Is your NJ license expired, or you forgot to renew it? If it is, then there is nothing much to worry about because I am going to show you how to restore your NJ license within no time.
First things first, it is essential to know whether your license is expired or suspended by NJ Municipal court. NJ MVC and Nj municipal courts function differently. NJ municipal suspends licenses once you reach the traffic violation points limit. NJ MVC records that suspension, and you will be able to apply for restoration after a certain period.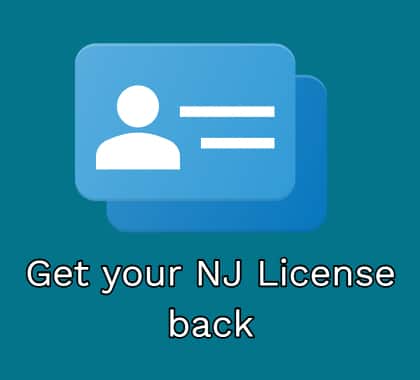 Important: Before Applying for License restoration, you must clear all your past ticket violation bills or any surcharge you owe to NJ MVC. You can make the NJ ticket payment online.
Steps to Get back NJ License
If you don't know the reason why your license was suspended or canceled, then you can contact MVC [Motor Vehicle Commission] at the following contact numbers (609) 292-6500 [Paid line], or you can use the NJ MVC toll-free number at 1-888-486-3339. 
Once you call the NJ MVC helpline officer, be sure to ask them why your license was suspended. While you are on the call with NJMVC, you can ask for any information regarding your license. They will have all your driving records on file, and it would be a good idea to know all recorded information about your driving license.
Anyway, be sure to ask the MVC representative for all of the below questions. Don't forget to note down the reason for your license suspension.
How long you have to wait to restore your license?

Do you owe any surcharge to the

NJ MVC

?

If you own any Surcharge, then ask them how much is it?; you can pay your NJ surcharge bill online at the

NJSURCHARGE.com

website.

Ask them if you have to complete any of the MVC license restoration programs like the IDRC program or Defense driving course. These cases are rare and only for whose license was suspended for Aggressive driving or Drunk and drive cases.
If your license was suspended for any violations by the NJ Municipal court, you get more details from your NJMVC representative and ask them to mail the data to your address. They will not do it unless you ask the data copy sent to your address. They will charge $15 for this data. It will be sent to your home address.
How to Pay the NJ License Restoration Fee?
You can pay the license restoration fee online or offline. The restoration fee is $100.
To pay the license restoration fee online, go to this NJ MVC official online payment page. You will need the following details to proceed with the payment.

Your Area Zipcode should be the same as in your driving license record.
Your Social Security Number (SSN)
Your driving License number without any spaces.
You can pay the $100 fee using your credit or debit card.
Another way to pay the restoration fee is you can walk into nearby MVC office and pay the bill
You can also issue a check or do a money order payable to NJMVC and send the payment details along with your driving license information to the following address.

New Jersey Motor Vehicle Commission, P.O. Box 140,
Trenton,
NJ 08650-0140
Note: In case, if the number or not working or if you find any incorrect information on this web page, then do let us know in the comments section below. That would help us to update the information on this page.