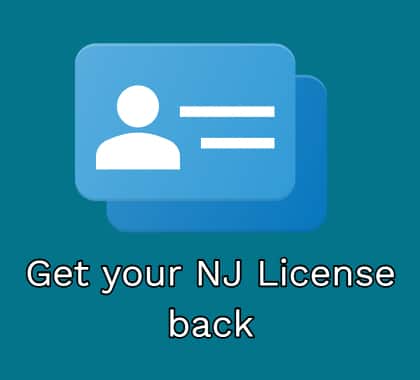 Welcome to the Step by step guide to restore expired and suspended New Jersey driving License Online.
Is your NJ license expired, suspended or you forgot to renew it?
if it is, then there is nothing much to worry about because I am going to show you how to restore your NJ license online.
First things first, it is essential to know whether your license is expired or suspended by NJDMV. As, the process is different for a expired license and a suspended license.
NJ MVC and NJ municipal courts function differently.
NJ municipal court suspends licenses once you reach the traffic violation points limit. NJ MVC records that suspension and you can apply for driving license restoration only after a certain period.
New Jersey License Suspension Period
Driving license suspension period in New Jersey depends on the number of times offence committed.
First Time DL Suspension period in NJ: 7 to 12 Months
Second Time DL Suspension period in NJ : 1 to 2 Years
Third and Subsequent DL Suspension period in NJ: 3 to 10 Years
Important: Before Applying for License restoration, you must clear all your past ticket violation bills or any surcharge you owe to NJ MVC. You can make the NJ ticket payment online.
Restore Suspended Driving License in NJ
To restore your suspended driving license in New Jersey, follow these steps:
Step 1: Find out the reason for suspension
First, determine the reason for your NJ license suspension. If you already know this then you can skip to step 2. If not, the easiest way to find out the reason for NJ license suspension is by contacting the Motor Vehicle Commission (MVC) at (609) 292-6500. An MVC staff member will review your driver history and let you know the required details.
Also, Find NJ Parking ticket details us the NJ Ticket Lookup By Plate tool.
Step 2: Fulfill the requirements
You may have to fulfill certain conditions to be eligible for license reinstatement. Those conditions are dependent on suspension reason. For example you might have to:
Meet any requirements set by the court (if applicable)
Finish a defensive driving course (if required)
Enroll in an alcohol and/or drug rehab program and install an ignition interlock device (for DUI-related offenses)
Step 3: Pay NJ License Restoration Fee
You can pay the license restoration fee online or offline. The restoration fee is $100.
Online:
To pay the NJ license restoration fee online follow the steps below.
Logon to NJ MVC official online payment page for NJ license reinstatement.
Enter the following details to complete the license restoration fee payment.

Area Zip Code should be the same as in your driving license record.
Your Social Security Number (SSN)
Your driving License number without any spaces.

Pay the $100 fee using your credit or debit card.
Offline:
Another way to pay the NJ driving license restoration fee is, walk into nearby MVC office and pay the bill.
You can also issue a Check or do a money order payable to NJMVC and send the payment details along with your driving license information to the following address.
New Jersey Motor Vehicle Commission, P.O. Box 140, Trenton, NJ 08650-0140.
Once you've met the necessary requirements you will need to pay the applicable license restoration fees and submit the required identification documents. You can find detailed information about the fees and required documents on the New Jersey MVC website.
Remember to stay aware of the points on your license, as accumulating six or more points within three years could result in a surcharge or further suspensions. Importantly, always follow the rules of the road and drive responsibly to avoid future license suspensions.
How to Find out the Reason For License Suspension in NJ?
If you don't know the reason why your license was suspended or canceled, then you can contact MVC [Motor Vehicle Commission] at the following contact numbers (609) 292-6500 [Paid line], or you can use the NJ MVC toll-free number at 1-888-486-3339.
Once you call the NJ MVC helpline officer, be sure to ask them why your license was suspended.
While you are on the call with NJMVC, you can ask for any information regarding your license. They will have all your driving records on file, and it would be a good idea to know all recorded information about your driving license.
Anyway, be sure to ask the MVC representative for all of the below questions. Don't forget to note down the reason for your license suspension.
How long you have to wait to restore your license?

Do you owe any surcharge to the

NJ MVC

?

If you own any Surcharge, then ask them how much is it?; you can pay your NJ surcharge bill online at the

NJSURCHARGE.com

website.

Ask them if you have to complete any of the MVC license restoration programs like the IDRC program or Defense driving course. These cases are rare and only for whose license was suspended for Aggressive driving or Drunk and drive cases.
If your license was suspended for any violations by the NJ Municipal court, you get more details from your NJMVC representative and ask them to mail the data to your address. They will not send the data unless you ask the data copy sent to your address. They will charge $15 for this data and it will be sent to your home address.
Once you have all the data, pay the the NJ driving license restoration free.
What is the cost to reinstate a suspended license in NJ?
Restoring suspended driving license in New Jersey costs $100. This is the restoration fee that you need to pay to the New Jersey Motor Vehicle Commission (MVC). In some specific cases, additional fees may apply depending on the reason for the suspension. For Example:
If your license was suspended due to unpaid parking tickets then you will be required to pay the outstanding fines before reinstatement.
Failure to pay surcharges can result in additional fees for restoration.
If you were involved in a DUI (driving under the influence) or related offense then there might be extra costs associated with fulfilling court-order. These expenses can vary based on individual case details from anywhere between $500 to $2500.
Reasons for Driver's License Suspension
Here is the list of common reasons for Driver's License Suspension in New Jersey. Knowing this information can help you be in the safe zone or helping out a friend.
DUI and Intoxicated Driving
Driving under the influence of alcohol or drugs is a serious offense in New Jersey.
If you are found to have a blood alcohol concentration (BAC) of 0.08% or higher then you may face a DUI suspension.
If you are found to be driving while intoxicated by drugs then your license may also be suspended.
The consequences for driving under the influence can be severe in NJ.
Nonpayment of Traffic Fines and Surcharges
If you fail to pay outstanding fines or surcharges related to traffic violations or other infractions, your driver's license may be suspended. It is important to address any outstanding fines or surcharges in a timely manner to avoid suspension and further penalties. New Jersey offers various options for paying fines, including online payment systems.
Child Support Arrears
This is strange reason to get your license suspended. New Jersey enforces child support obligations seriously. So, nonpayment of child support may lead to the suspension of driver's license.
Reaching 12 Points For Traffic Violations
If you accumulate 12 license points or more on your current driving record then your license will be suspended. Be sure to obey all traffic rules and regulations to avoid accumulating points on your license. If you receive any traffic tickets, pay them as soon as possible to prevent potential license suspension and additional surcharges.
Based on the information above, you can take the necessary steps to maintain your driving privileges in New Jersey.
FAQ:
How long does a license have to be suspended to retake the test in New Jersey?
If it's your first time offense then your license can be suspended from 7 to 12 months. For a second offense, the suspension period increases to 1 to 2 years and if it's a third offense or any subsequent ones then you're looking at a suspension period ranging from 3 to 10 years.
Can I renew my license while it's suspended in New Jersey?
You cannot renew your New Jersey driver's license while it is suspended. As per the State of New Jersey's MVC regulations, if your license is suspended then you need to reinstate your driving privileges first and then apply for renewal.
Note: In case, if the number or not working or if you find any incorrect information on this web page, then do let us know in the comments section below. That would help us to update the information on this page.
We hope you get back your DL as soon as possible. For any queries drop your comments below.