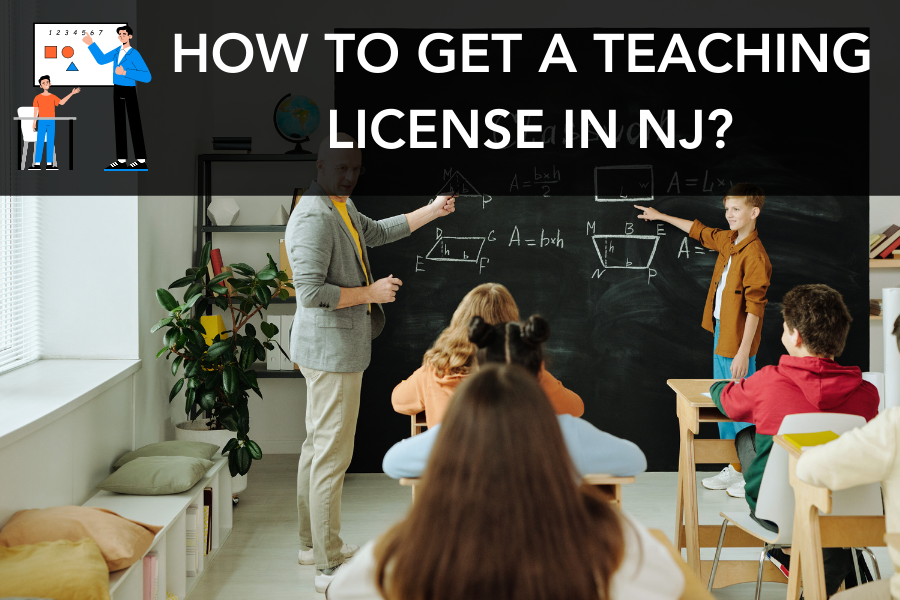 Teaching is a rewarding career where you shape the lives of the next generation. It is also important enough that all states require some form of license or certification before they allow you to teach their kids. New Jersey is no exception.
To get a teaching license in New Jersey, you must first fulfill the necessary education requirements. Then, you must apply for the license certification with the state's Board of Education. From there, you just have to wait until the state approves your application.
However, unlike other states, New Jersey offers four different types of teaching certifications. Each certification comes with slightly different requirements. Therefore, by reading further, you learn what these certification types are and how to obtain them.
How To Obtain a New Jersey Teaching License?
Every state requires its teachers to have a license or certification before they can start training the next generation. The requirements for obtaining these licenses or certifications can vary from state to state, but there are some common items.
For instance, all states require their teachers to have a college degree in the field they will be teaching. While most states demand that you have a master's degree, New Jersey just requires a bachelor's one, provided that you also attended a teacher preparation program. After that, you just apply for and pass the required certification exam from the state's Education Department (NJDOE).
However, passing the certification exam does not give you your New Jersey teaching license. Instead, you get a Certificate of Eligibility with Advanced Standing (CEAS). The CEAS lets you apply for a teaching job in the state but then must complete the Provisional Teacher Program (PTP), which is the state's residency program for teachers.
The two-year program starts as soon as you obtain a job in one of the state's numerous school districts. Your employing district will give you a provisional license as well as the requirements for passing their PTP. Once you complete the PTP, you can apply for a Standard Certificate and your permanent New Jersey teaching credentials.
What is a Teaching License?
A New Jersey teaching license because it allows you to legally serve as a professional staff member at any of the state's public and private schools. That as well as any other institution accredited and supervised by the NJDOE such as:
Charter schools
County vocational-technical school districts
Special services school districts
Private schools for students with disabilities
Educational facilities within the Departments of Corrections, Juvenile Justice, and Human Services
As mentioned above, getting a teaching license in New Jersey requires obtaining several teaching certifications in sequence. The first is the CEAS or a general Certificate of Eligibility (CE). The main difference between them is that a CE requires additional training from an approved New Jersey preparation program before you can continue. CEAS recipients can ignore this requirement as they would have obtained the training as a part of their college degree.
Once you have either certificate, you can participate in the PTP to get your permanent New Jersey teaching certificate.
How Much Does Getting a Teaching License in New Jersey Cost?
New Jersey does not make its application cost schedule public, requiring new applications to create an account on the NJDOE's website before they will show anything. However, most people can expect to pay anywhere from $20 to $200 to get a teaching license from New Jersey. This cost includes certification fees, training program enrollment, and any required documentation.
Your required certification level will determine your actual costs. Although, you can get the fees waived if your case meets the waiver requirements of New Jersey's Public School Staff Shortage Task Force.
Requirements & Benefits of Obtaining a New Jersey Teaching License
Each type of New Jersey teaching license has its education and testing requirements, but most teachers in the state will need to complete them all since each license leads into the next. As such, you need at least a bachelor's degree from an accredited New Jersey college or university with a grade point average of at least 3.
Once you have your degree, you then must pass the state's testing requirements. For most teachers, that means passing the Praxis Subject Assessments test for your desired certification. You may also need to pass your local school district's physiology and hygiene exams. Other licensing requirements include federal and state criminal background checks.
If you can make it through all the testing and certifications, you can legally train students in New Jersey. Your benefits will then vary based on your type of certification and your school. For instance, most New Jersey elementary school teachers earn around $70,660 while high school teachers can earn $76,390.
Conclusion
A New Jersey teaching license lets you legally teach students in New Jersey. It is a rewarding career, but if you can meet the state's certification requirements. Fortunately, these requirements are easy to meet if you know what they are.